Powered All Terrain Chairs
The Nomad is our most terrain-versatile of the fleet, equipped with tires designed for any turf. Our clients say it best: "The Nomad reminds me of my Cadillac Escalade. It's very comfortable, very stable, and rides like a dream! It's the SUV of wheelchairs!" The seat fully reclines, and we have designed it for total comfort. It has a battery life of approximately 6.5 hours of normal use. Recharge is as simple as plugging it into a wall like a lamp! Your mileage may vary depending on the softness of the sand, but getting 4 miles of continuous use is a good safe limit.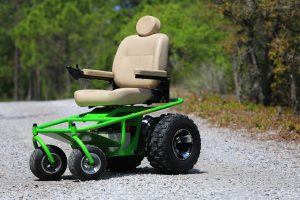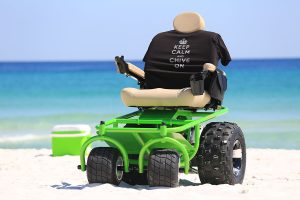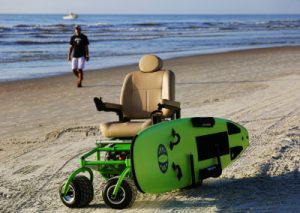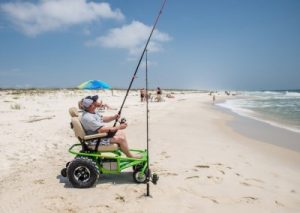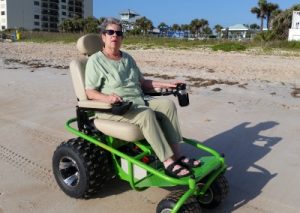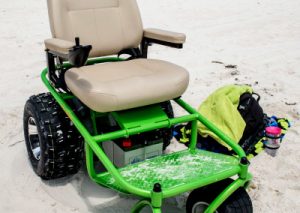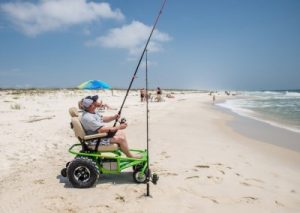 The Beach Cruiser is specifically meant for the beach. If it looks familiar, that's because we modify existing electric wheelchairs to allow for beach use. The tires are best suited for sand of all types, including powdery sand found on the gulf coast. The seat height is typical of a standard electric wheelchair which translates to a low effort transfer. These chairs serve every disability need, as they are the most versatile in function, adapting to most disabilities. We don't recommend these chairs for off-sand use, because the tires aren't meant for sharp objects. We do have all-terrain wheels we can put on them if your needs require this design.