Un-Powered All Terrain Chairs
Get Wet!
When you want to touch the water, any of our unpowered models will serve you well. There's no electronics, so you don't have to worry about damage! These chairs are also less expensive to rent, helping to fit within tighter budgets while still serving a need. They do require assistance, and are not designed for self-operation like a standard unpowered wheel chair.
We offer 3 models depending on your needs. One offers a more traditional upright seating position, the worldwide popular 4 wheeled Debug. Another is the floating 3 wheeled MobiChair. That's right, it FLOATS! These chairs offer a relaxed seating position, similar to a lounge chair. The flotation tires combined with the flotation armrests provides an outstandingly stable floating experience! And finally, a third model is the Sandrider. This chair has a fixed seating position, three wheels, but the front wheel does not turn. The advantage this chair has is that it can be collapsed for easier transport. The disadvantage is that you have to lean the rider backwards in order to change direction. For some people, that may be scary. This chair is recommended for lightweight passengers.
Most popular question: Are they easy to push on sand?! First, these chairs are designed specifically for pushing on sand, so that's the easy answer. But it's a bit deeper than that. Is anything easy about sand? Not really. But these tires do stay on top of the sand. So does the rider. So what's the struggle? Well, it's all on the person doing the pushing. If the occupant is heavier than 200lbs, pushing them in anything is going to be harder on the sand than on hard surfaces. But these chairs do make it much easier. If you could wear snow shoes when you do the pushing, you'd be well ahead of the game, but you'd look silly! And I'm pretty sure your tan lines would be sillier. To put it in terms we can understand being able-bodied, walking on dry land is pretty simple. Walking on sand is harder. Walking in water over our waist gets tough. Pushing a wheelchair on dry land is pretty simple. Pushing it in sand is harder. Pushing it in water gets tough. So hopefully, that answers your questions!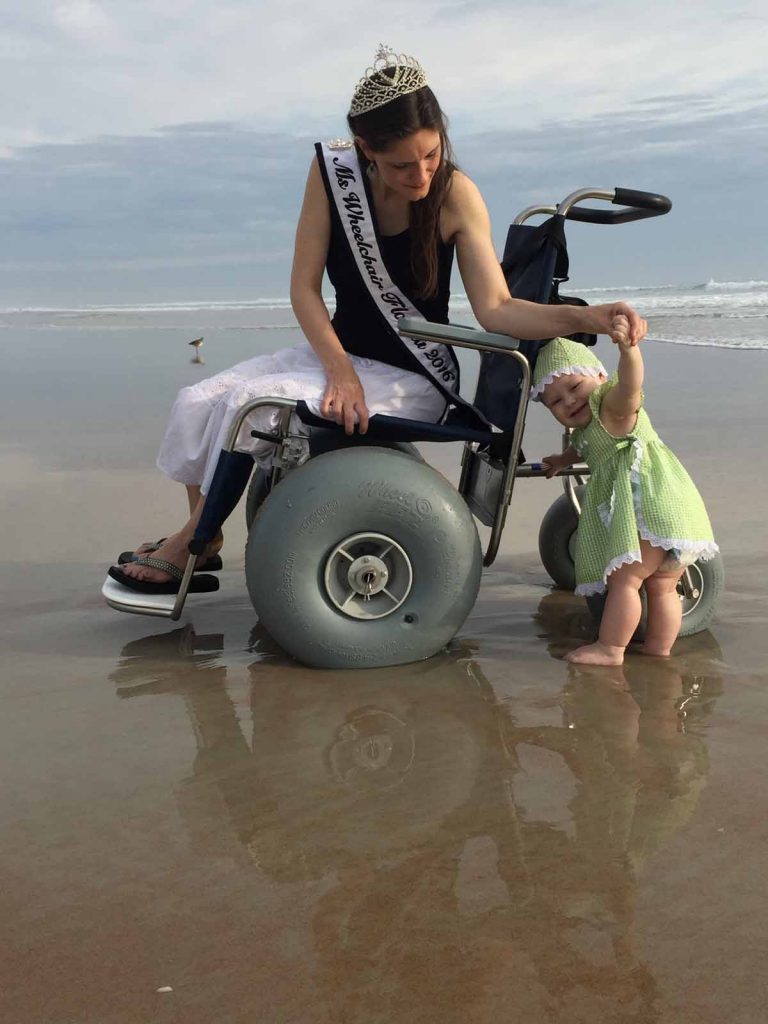 Debug Specs:
Occupant Weight Capacity: 350 pounds
Overall Dimensions: 51″L x 34″W x 39″H
Seat Dimensions: 18″W x 19″H x 18″D
Frame: Stainless Steel tubing
Backrest: Fixed
Armests: Easily removable for lateral transfers
Footrest: Linear position telescopic length adjustment and some models have four position angle adjustment.
Chair Weight: 45lbs
DeBug Features:
Rubber pneumatic tires absorb shock
Upright seating position
Some models have elevating legrest, please specify if you require this feature for rental
Can be driven into shallow water
Can be transported in small SUV or pickup trucks. Does not fold flat or collapse.
Non-allergenic, UV resistant, water resistant and ventilated material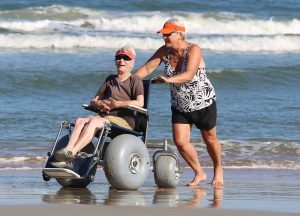 MobiChair Specs:
Occupant Weight Capacity: 300 pounds
Overall Dimensions: 60″L x 42″W x 50″H
Seat Dimensions: 18″W x 19″H x 17″D
Frame: Aluminum, fold-flat
Backrest: 3 position adjustable recline
Armests: Soft touch PVC flip up, easily removable for lateral transfers, transport, and storage
Footrest: Linear position telescopic length adjustment and some models have four position angle adjustment. The De-Bug also has a footrest for proper foot support.
Chair Weight: 45lbs
MobiChair Features:
Rubber pneumatic tires absorb shock
Can be submerged into water, floatable
Armrest and wheels comprised of floatation materials
Can be transported or stored easily
Easy assembly, quick release pins and joints do not require tools
Easily fits into virtually any vehicle
Non-allergenic, UV resistant, water resistant and ventilated material
Important: A life jacket is required for non-swimmer. Not intended for areas with current or strong winds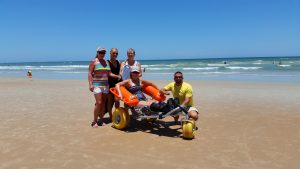 Sandrider Specs:
Occupant Weight Capacity: 300 pounds
Overall Dimensions: 65″L x 38″W x 39″H
Seat Dimensions: 18″W x 19″H x 18″D
Frame: Aluminum
Backrest: Fixed
Armests: Easily removable for Lateral transfers
Footrest: Fixed position mesh material, adjustable for rider leg length.
Chair Weight: 40lbs
Sandrider Features:
Rubber pneumatic tires absorb shock
Fully transportable in smaller vehicles because it comes apart in several sections
Can be driven into shallow water
Non-allergenic, UV resistant, water resistant and ventilated material